Most of the time I wouldn't recommend using a flea fogger or flea bomb in your home. This is because with a flea fogger you're releasing hazardous chemicals into the air that could linger in your home after use. Sometimes you may need a fogger though. Flea Infestations can grow so large that you need a flea killer that will kill a large amount of fleas really quickly. This is when I suggest flea foggers
Below I'm going to list 3 of my preferred flea foggers that I use when fleas get out of hand. If you have any questions you can ask me using my contact page.
Best Flea Fogger- Raid Flea Fogger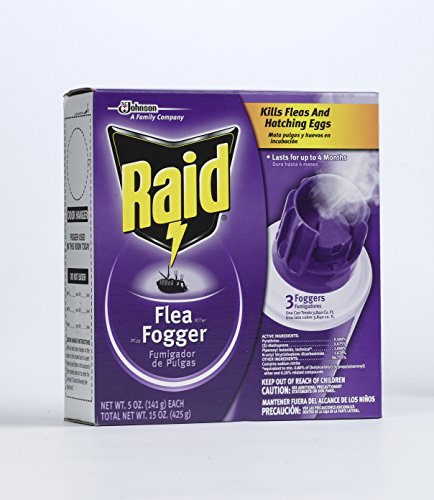 Raid Flea Foggers are a more environmentally friendly flea fogger because they don't use CFCs which are harmful to the atmosphere. It has really quick killing power so you can set the fogger off while you run to the store.
Not only does it kill fleas while its going off but it controls fleas for up to 4 months provided you are keeping fleas off your pets. If you want a quality, safe, long term flea fogger then the Raid Flea Fogger is what you need.
Hot Shot Flea Bombs
This Flea killer is recommended by a large number of consumers which is proof that its effective and gets the job done. It doesn't just kill fleas but also other pets such as roaches, and bed bugs.
The Hot Shot Flea Bomb covers a large area making it easier to take out more fleas with less bombs. This is the runner-up for my favorite flea foggers. Its cheap, effective, safe and kills spiders and other insects along with fleas.
I do suggest putting a towel or newspaper  below the fogger though in case it leaks onto the floor.
Zodiac Flea Bomb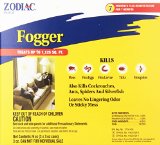 This is a flea bomb that take fleas out from the root. The Zodiac Flea Bomb has Insect Growth Regulator in it which not only kills adult fleas, but also kills flea eggs and larva too.
The packaging says that it can prevent flea infestations for up to 7 months. I haven't used Zodiac enough to be able to tell if this actually works but in my opinion thats a little far fetched.
The zodiac flea bomb works great to get ride of fleas quickly and effectively. I do recommend buying multiple bombs though and placing one in each room of your home that has a window. This makes the bomb all the more effective.
Steps to take when using foggers
1. Open cabinets and doors to rooms to make sure the foggers get into every place fleas could hide.
2. Cover dishes, food, and aquariums if you have any. You can cover clothes too but thats not absolutely dire.
3. Make sure everyone is out of the house while the foggers go off. Do not return until time specified on fogger.
4. Read the fogger instructions because different foggers go off for different times.
5. When you return open up all windows in your home to make sure everything vents out.
6. Wipe down counters and tables around the house. If you have small children wipe down anything they can put in their mouth such as toys, or utensils.
For more information read up the foggers instructions.
FAQ
Do I need to turn off my pilot light before using a flea fogger?
This really depends on the type of fogger you're using. Visit the fogger makers website and do your research first.
Should I wash my dishes after using a fogger?
If you didn't cover your dishes then yes you should rewash your dishes.
While my  fish tank be safe when using a fogger?
No, you should cover your fish tank before using the fogger and turn off the air flow system to make sure your tank remains healthy.
Can I leave any pets in the house while the foggers going off?
NO! You are releasing toxic chemicals into the air to kill off bugs. It may not severely damage your pets but you need to be safe. When using the foggers take your pet with you! Remove their water and food bowls too.
Should I remove house plants?
No, the foggers won't damage your plants
How long should I stay out of my home?
Until the specified time on your fogger. Every fogger has a different time.
For anymore questions contact me here.