Flea shampoo is a great way to remove fleas from your pets fur. Flea shampoos have chemicals in the designed to kill fleas. Some flea shampoos also contains chemicals that allow long term flea prevention. This can keep fleas off your pet for 4 weeks! Below I'm going to show you my favorite fleas shampoos for both cats and dogs. If you want to learn more about flea shampoo you can read my article here.
Best Flea Shampoo For Your Pet
1. Adams Plus Flea & Tick Shampoo with Precor for Dogs and Cats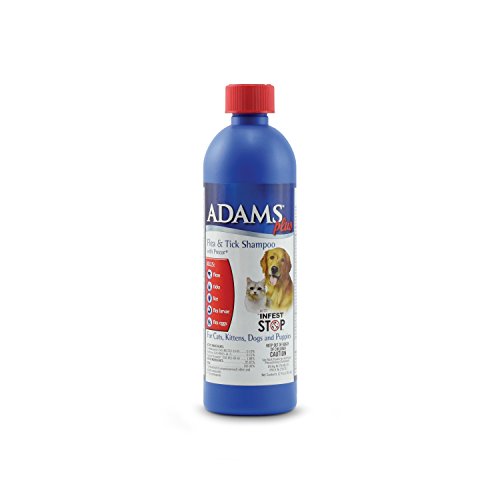 Adams Plus is the best flea shampoo I've used. It not only kills adult fleas but also kills flea eggs. Not a lot of products kill adult fleas and fleas eggs. Adams Plus kills both and does a great job of it too. It's gentle on yours and your pets skin, smells great, and is relatively cheap only costing a mere 12 dollars!  Thats an cheap investment for a product with such great quality.
If you have a cat as well as a dog this is a great option for you. Adams plus works on cats and dogs alike so you can take out two birds with one stone.
My only complaint is a small one. It does tend to dry out your pets fur so I suggest using a conditioner. This conditioner can be applied while bathing your pet or sprayed on afterwards.
2. Advantage Flea Treatment Shampoo for Dogs

Advantage always has great flea treatment products. You can use their flea shampoo or flea drops and both work like magic killing fleas either on contact or within a few hours. Your pet will be flea free in no time!
I have noticed that it doesn't keep fleas off my dog for as long as it claims too. Advantage says it will keep fleas off your pet for up to 100 days. Usually I find fleas on my dog again after the first month so I have to reapply it about once a month.
Seeing as some flea shampoos can only keep fleas off your pet for a week or two this isn't a problem for me.
 3. Vet's Best Anti Flea Easy Spray Shampoo

If your pet doesn't like baths and tends to make things very difficult, this is a great option for you. Vets Best created this flea shampoo so you can spray it on your dog or cat instead of having to scrub. It works really well, its cheap, and easy to use
Just like Adams flea shampoo it can be used on cats and dogs. When sprayed it doesn't just target adult fleas but will also kill any flea eggs that are caught in your pets fur.
For pets with sensitive skin this product will work best because of its mix of clove, and peppermint oil to soothe skin irritation.
For More information on flea shampoo read out flea shampoo article. If you have any questions feel free to ask using our contact page.