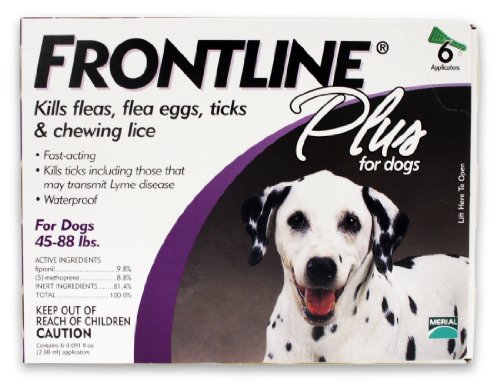 Frontline Plus is a type of flea medicine for dogs and cats. In my opinion this is the absolute best medicine available. It's guaranteed to kill 100% of fleas within the first 12 hours of applying it to your pet. It is also 100% Guaranteed to remove ticks, and chewing lice within the next 48 hours. Frontline plus is usable on dogs, puppies, kittens, and adult cats as long as they are older than 8 weeks.
Frontline Plus contains Fipronil, a broad spectrum insecticide and slow-acting poison that disrupts the central nervous system of fleas, ticks, and chewing lice. It also contains S-Methoprene an insect growth regulator that kills fleas, eggs, and larvae.
Benefits of Frontline Plus
Kills all existing fleas on your pet within 12 hours
Each application provides a full months protection
Also aids in control of Sarcoptic mange infections
Great for pets that swim since it's waterproof
Kills ticks and chewing lice
Cautions
Frontline Plus may cause irritation to the applied area. If this is persist stop using it immediately and consult a Veterinarian for information and advice.
How to apply
Remove Applicator- Lift and remove the plastic tap to expose the foil backing. Then peel away the foil. You can use scissors to do so
Open the applicator- Hold upright with foil tip facing your direction and snap the applicator tip
Apply the solution- Part your pet's hair around the shoulder blades. Place the applicator tip just above your pet's skin and squeeze. Apply the entire contents within the applicator to a single area around the parted fur. Do not apply to the top of fur coat. Once through applying avoid contact with applied area until dry.
Other Information
Frontline is made for all kinds of pets. You can buy a different kind for each of size dog. You can buy it in packs of one or 6 doses depending on how long you want to use it. I've used it on my small sized dog before, I used the 22 pound Frontline because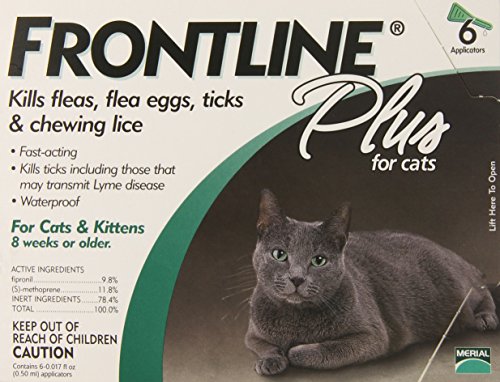 he's quite a small dog and I saw results within a day. He stopped itching and I used a flea comb to check him for fleas. I didn't find a single flea on him.
Some customers have said that in some areas there is a strain of fleas that is immune to frontline in that case I would recommend using Advantage for that strand. This is a very rare case though and Frontline will work almost all the time.
There have been some cases of counterfeit frontline products. It's easy to get them mixed up with the real Frontline, a noticeable difference though is that the counterfeit frontline is measured in the metric system. If you want to buy Frontline I recommend going to Petco or clicking here.